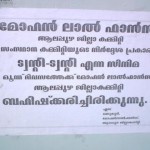 Twenty – 20 is a 100% entertainer … It satisfies all the fans group…Udaya Krishna-Sibi.K.Thomas did a great job i must say to balance all the megastars in equal….
I saw the movie from Alappuzha Sas Shanthi…Yesterday Morning i went there to book my ticket…I was surprised.. Because the crowd presence was very poor when we compare to a mega star movie…and i saw this poster outside…

So i thought this might be the reason behind this cold response…I booked my tickets for second show ..Tickets were easily available….at that time…Not even a single black ticket seller was there…I could hear the stunt sounds and claps in theater at that time…Hmmm so i was excited to see the movie…
TIME:8:30pm
*************
When i reached near the theater i got shocked again….Because it was like a festival there…Damn crowded…Police forces …hooo…I tried my level best to park my car inside theater…But it was just a dream…A 15 minutes terrific block only because of my car…
Nammal kaloor undakiya block nte atra poora…
Anyway i parked the car somewhere else….and went back…when i entered the theater i was shocked again….100% of the balcony is filled by family audience and the 1st class full in a festive mood….There was a small fight between the fans…But anyway it all got controlled and the movie started…The festive mood continued…
Film started with a small sent off function sene…Madhu and kaviyoor ponnamma….Janardhanan was also there in the scene…After that
The first introduction was our One and only Suersh Gopi….Antony Ponookaaran IPS…Started with a stunt scene…Eben though it had a comic effect i like it…
Karthika was there for one scene as suresh gopi's wife…after that she disappeared….
Anyway the introduction and puch dialogues from suresh gopi was good…
Jayaram is the second star to be introduced…in the 5 stars….A normal intro…and about his role…He did a great job….His pair in the movie is Radhika (classmate fame).As we all know he is introduced as a witness for the murder case…But later we will know that he has got more things to perform…And he is another Vital character in the movie…
And the Third Introduction..
The Mega Star
MAMMOTTY…OUR MAMMOOKKA…
Must tell you oru Kiddilam Intro scene….Advocate Ramesh nambiar….Yes….Its the court scene after his introduction…as we all know mammootty pushpam polle case win cheyunnu…But the interesting fact is that Mammooty …People were shouting and cheering when mammukka was on the screen…Majority was on the shouting side…I must tell you….about 80%+ in the theater was Lalettan fans….But in some puch scenes every one clapped for both the Mega Stars….Gopika is mammukkas pair in the movie…Mammukkas' character was a neutral type…Not that aggressive like other characters…He is an intelligent shrewd Advocate…and he did his job superbly….
And Now….The 4th Intro….
***The Universal Super Star***
LALETTAN INTRODUCTION…..
The crowd just celebrated it like Thrissur pooram….Poorathine vedikettu polle claps and sounds….Amazing….Devaraja Prathapa Varma…an Innocent man…Kavya and Sukumari amma requesting mammukka to help them and release Lalettan…Mammukka Lalettane court il poyi kaanunnu…..Wow….The BIG M's First joined Scene….It was really lilke watching a Twenty – 20 cricket match….
Angane Mammukka Lalettan a Case il ninnu rekshikunnu…. Till that the complete film was like in Mammukkas' Side….
BUT…
after that scene….just Before the interval…..the most Kiddilam scene in the movie…hooooooooooooo The real twist….Friends….just go and watch the movie…At that time we will understand…..Twenty -20 is a Lalettan Movie…
and last but not the least…The 5th Intro…..Dileep
I must tell you…Dileep really Rocked.. Even though he is only for a few scenes…He was just amazing….After interval scene the main claps were all for dileep….His dialogue presentation was superb as usual….with his comic effect….All went right….He succeeded in his second role too….I mean…He succeeded as a producer and Actor….
So….Friends….Just Go and Watch the Movie…..I wnt say that its a Mege Giga Super Hit….But its a Visual treat…..to see all the stars n the single screen….
Other than stars…. Innocent,Sai Kumar, Jagathy Sreekumar,Jagadeesh,Manoj.K.Jayan did their jobs superbly….
NB:Bhavana Rocked in the song with dileep….I must tell you….More than wat nayans did n the item dance..
So thats all….friends….Enjoy the movie…..
Twenty -20 is a 55% Mohanlal Movie…40% Mammootty Movie and 5% Suresh Gopi movie…
by guruofguru on Thu Nov 06, 2008 8:35 pm