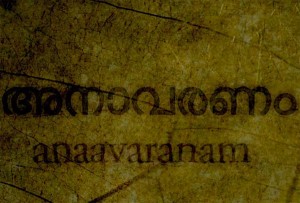 Vazhur Brahmadathan, the celebrated magician in a small village in India is haunted by premonitions of his granddaughter's death. The magician unveils his last trick as he desperately tries to save his granddaughter from certain death.
Anaavaranam / The Unveiling from Narayanan Poomulli on Vimeo.
Narayanan Poomulli's diploma project from Srishti School of Art, Design and Technology.
Written, Edited & Directed by Narayanan Poomulli
Cinematography by Tariq Thekaekara
Music by Narayanan Ravi Purayannur
Sound Design & Mixing by Visakh B Nenmini
Winner:
Third Place Short Film Award, Global Art Film Festival Tour 2010, USA
Official Selection at:
International Short Filmfestival Venlo 2010, The Netherlands – Best Cinematography
Bollywood and Beyond Film Festival 2010, Germany – Audience Choice Award.
Brno16 Short Film Festival 2010, Czech Republic.
The Stepping Stone Film Festival 2010, India.
Screenings:
International Documentary and Short Film Festival of Kerala 2010, India.
Budapest Short International Film Festival 2010, Hungary.
Cellu l'art Short Film Festival 2010, Germany.
Madurai Film Festival 2010, India.
ImagineIndia Film Festival 2011, Spain.