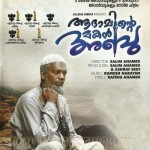 Malayalam film 'Adaminte Makan Abu' that made us proud at the National Awards has now been selected by Film Federation of India as India's official entry to the Academy Awards for the year!
This film by Salim Ahamed features Salim Kumar and Zarina Wahab along with several others in pivotal roles. 'Adaminte Makan Abu' is about the aspiration of a Muslim couple to take a holy pilgrimage to the Haj. It showcases the problems they face, how they save up to go and are offered help by many, but they refuse and want to make it on their own. The film is an emotional drama that received much acclaim.
The film beat 15 other films and has now been declared by FFI as India's official entry to the Academy Awards. When the film bagged the National Award many speculated that it will be sent as an entry to the Oscars, however, authorities have denied saying the receiving of the National Awards hasn't been a recommendation for this entry.