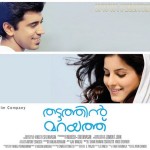 Here is one director who is refusing to follow the remake trend. Thattathin Marayathu has become a huge hit and has aroused a lot of interest in the southern film industry.
Vineeth Sreenivasan has been getting offers from big time producers and actors in the Tamil and Telugu industry to remake TM but he has posted in his Facebook page that it would be difficult to recreate a beautiful dream and has turned down all offers.
On the other hand he mentions that "it would be interesting to see another director from another industry re-conceiving my film and placing the story and characters in their own space.
Anyways, during these meetings, I made a lot of good friends in other industries. And the happiest part is that, they are all discussing the change in Malayalam cinema right now. Felt good!". Well, that does reinforce the fact that Mollywood is indeed on the right track.