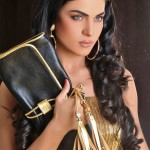 First time Bollywood Starlets Veena Malik shows her love interest in art and she went to Finland to collaborate with Finland best known visual artist Vesa Kivinen. Together they will create five varied art pieces that focus into finding common ground and beauty over the usually promoted differences between the East and the West. It is first collaborating painting of Vesa Kevinen and Veena which will be never repeat in future by anyone.
Veena Said, "I feel very glad that Finland well known visual artist Vesa Kivinen called me to work with him. I didn't come here just for the art love but the main motive behind this is to support women rights."
Veena and Vesa collaborating art profits will go towards a charitable organization promoting women's rights in Pakistan. Veena always came forward to support different charitable trust including WHO. Vesa Kivinen is best known in Finland for his collaboration with Leif Segerstam's "Völvan" symphony, and his charity project with Miss Finland Noora Hautakangas.