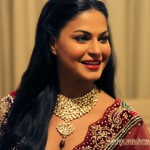 Bollywood most gorgeous and sizzling actress Veena Malik now turn international pop singer after she launched her first single album "Drama Queen". Hottie came in Red Bridal Dress as we can say she is ready for her Band Baja Baraat and she interact with media about the married life. Veena never seen in Shadi ka joda before it can be a sign of Mr. Perfect in her life.
Launching of Drama Queen Album saw a fab performance by veena where she was clad in white miniskirt. Where she sings a song from her album and was looking very spicy and zesty.
Sexy starlet is very excited about her debut album and she said, "it's a very special day for me, my first single album Drama Queen is launched and I am the real Drama Queen and I think this title suits me well".
Veena is ready to show her drama after releasing of her album that she is the only drama queen ever. She is going to beat every drama queen in Hollywood and Bollywood to be on the top of all. We can say that it's just a trailer of Drama Queen and picture to abhi baki hai mere dost.