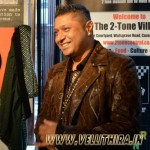 British born pop icon and legend singer Stereo Nation recently honoured with wall of fame in Coventry.Now once again his sensational voice is ready to make a mark in Guinness book of world record through his upcoming movie "The city that never sleeps". This is first time in Bollywood history a British singer TAZ will set a record.
The king of magical voice Taz said, "It's my pleasure to be a part of such a historic movie which is going to break Guinness Record. It's a challenge for me to create a unique kind of music which gives you different melody of it."
The song of film is a culmination of Taz's hard work, creativity and passion for music. He shows diverging from his serious genre for this movie. This film have international artist which is produced by Satish Reddy and Directed by Haroon Rashid. TAZ, aka Johnny Zee (Stereo Nation) a British Born Asian raised in Warwickshire UK, established himself as a recording artist with the release of his debut album 'Hit the Deck'. Managed by Pop Star Neville Staples from the band 'The Specials' & 'FunBoy3'. He stormed the UK Asian pop charts for thirty-six weeks at number 1. The album went on to become one of the biggest selling Asian fusion releases of all time.