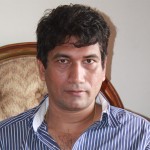 Bold and sexy Poonam Pandey is on a high these days. And why not, after all she is gearing up for her film in Bollywood. Poonam Pandey is known for some of the most famous on screen sexy, hot and nude pose. But very few people know about the man force behind the success of celebrity. Satish Reddy is one such a name that makes Poonam Pandey in B-Town. The man who is busy creating a brand now days is busy on his upcoming movie "The city that never sleeps" which is produced by him and directed by Haroon Rashid.
Satish Reddy Said, "The creativity makes Poonam Pandey in Bollywood as a brand. I wanted to take her in my upcoming movie "The city that never sleeps" but she is signed on a contract and busy on her first Bollywood debut movie "Nasha". The USP of my film is unique, it's based on real fact of life and it will follow on next generation".
Now a days Poonam Pandey bathing session continue making media headline but the first time she came in limelight was when she promise to strip nude after winning world cup final India VS Sri Lanka.