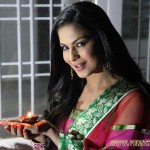 The festival is not just a favourite with a common man, but is also considered auspicious by the Bollywood Bombshell Veena Malik. On the occasion of diwali she was seen celebrating with her Telugu movie Director Rama Rao residence in Hyderabad. Hot and sexy diva was seen in mood to rock this diwali with "Boom".
Veena Malik said, "Diwali is a festival of light and colour, I am very happy to celebrate Diwali with Rama Raoji. It's fun to light Diyas, crackers, fuljhadi and rockets. As it's my second diwali I love to share this moment with all my fans".
Diwali is turned out to be a blessing from "Maa Lakshmi" for Veena Malik. This diwali Veena offered Lakshmi Puja for wealth and success. She is busy on her debut Telugu movie "Nagna Satyam" which is directed by Rama Rao and produced by Chadalavada Srinivasa Rao under Anuradha films banner.
"I love seeing lights all around me. Hyderabad looks like a lovely bride during Diwali. And it's great to see people finally taking time off from their hectic lives in this fast-paced city to enjoy some time with dear ones", she added.