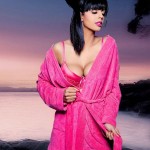 The festive season has begun with celebrities like Sunjay Dutt, Malaika Arora, Sunny Leone, Lara Dutta and Farhan Akhtar attended music concert of Guns N Roses. The people are high on life today as they have Nasha of music and dance. The hottest babe of Bollywood Bhairavi Goswami is ready to addict you through her Nasha of Music. She will surprise her fan's with boldness where she will seen giving sex appeal while posing and dancing in bikini and flaunting her curves in her forthcoming movie "The City That Never Sleeps" which is produced by Satish Reddy and Directed by Haroon Rashid.
Bhairavi said, "I am a bold person, so I was quite comfortable shooting for the bold scenes. I am here to entertain the audience as I am doing my job as an actress. Music is my life and I love to live with it as I am addicted to it."
Bhairavi's first movie Bheja Fry where she acted as a casino lead actress were she was appreciated by audiences. She also acted in the children"s hit composite animation film 'My Friend Ganesha 2'. She played a glamorous girl in Mr. Bhatti On Chutti, starring Anupam Kher in lead role and featuring Amitabh Bachchan in a cameo appearance.
"I am very happy to be a part of such great film which is going to break 20 Guinness World Records. It's a great pleasure to work with International artist which will rock the theatre. Jeremy Williams is a fabulous actor and I am lucky to get a chance to work with him", Bhairavi Added.