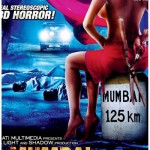 Bollywood Sexy Bhoot Veena Malik's movie Mumbai 125KMS is ready to wash up the magic of Bipasha Basu's "Aatma". Hemant Madhukar most awaited movie which is going to hit the theatres on the same date when bipasa basu film 'Aatma' will be releasing mumbai 125 has a edge over Bipasha film as The USP of the film is that it is shot in real stereoscopic 3D.
Excited Veena said, "Its great moment for me as my most awaited movie is ready for release in March and I am sure people will enjoy it and appreciate our effort to bring India first original 3D movie."after a long time
This is first time in Indian cinema after chota chetan that the entire film has been shot in real 3D format, so people will feel the experience in real 3D format similar to Hollywood movies.
Director Hemant Madhukar said, "I am happy that my movie is ready to scare the audiences in March 2013. It's really hard and difficult to shoot in 3D format as it takes lot of time and effort"
This movies presentation and the scenes are scary so be careful when you enter the theatres as the movie will give you a Goosebumps.
Veena Malik is also preparing for the contest and promotions of the forthcoming movie "The city that never sleeps" which is being produced by Satish Reddy and Directed by Haroon Rashid.as She is looking forward for 2013 as a great and successful and rocking year.