Poonam Pandey — The New Marketing Strategy for Film Promotion
Poonam Pandey has sparked off headlines time and again, scaling new heights of fame. And cashing on her popularity are filmmakers who have penciled the actress for their film's promotional activity even when she is not a part of the cast. Poo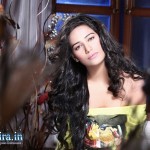 nam was recently seen promoting veteran actress Dimple Kapadia's light hearted comic flick, "What The Fish" where poonam was seen flaunting her temporary fish tattoo on her thigh, which relates to the title of the movie and she made some hot dance moves and showed off her gold colored bikini.
       A source said, "Poonam Pandey's online social media strength is high and filmmakers and brands want to cash on that. She is also the only celebrity actress to be ranked second most searched model on Google continuously for the past two years. Anything that she does goes viral instantly, such is the curiosity that Poonam spark off amongst netizens and people in general."
It may be known that last week an MMS clip of Poonam's private party went viral upsetting the actress. "But guess that makes her the most discussed celebrity," said the source.